Weekly Update: Getting back into things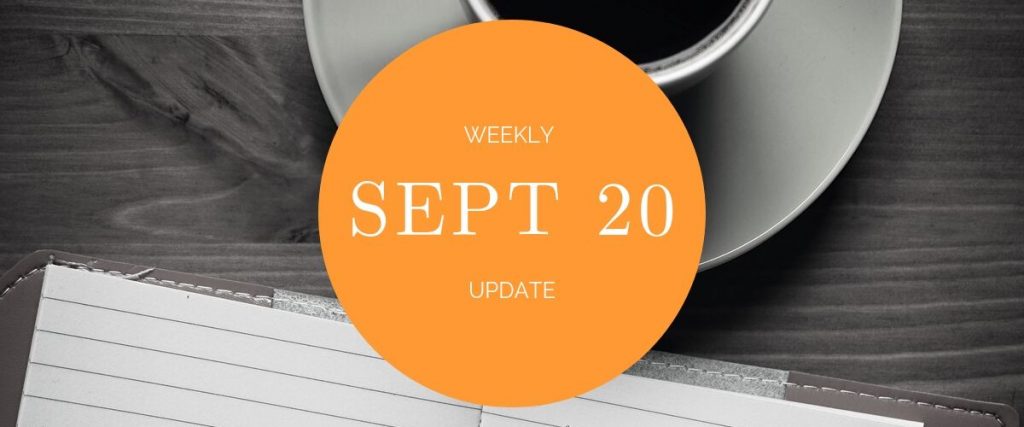 Here it is, my first blog post in a couple of years. I admit, I've been a bit remiss in publishing my own, original content. My focus has been decidedly outward the last few years – working for my clients and ensuring their content is well-written and published on time. This year (aka last January), I told myself I'd focus a bit more on myself and my own projects. And I have! Here's what I've been doing…
Creative Writing Bullet Journal
I started a Creative Writing Bullet Journal for myself. In it, I'm recording all of the advice and tips I've collected over the years – mostly on Pinterest, but also in other places. I'm hoping that this journal will become a reference book of sorts to help improve my creative writing skills. Of course, it's not done yet – I got about a quarter of the way through my planned content and then just… stopped.
My Goal is to finish researching and recording everything by the end of the year. Then, I'll pop some of the pages up on my blog for all to see! (Maybe next year I'll make a digital version of the reference pages and share it with the world).
Monthly Short Stories
I planned to write a short story every month (up to 5,000 words) and submit them into a few contests/writing competitions. So far, I've written five short stories and submitted one (I didn't win). So, I am a bit behind but that's ok, because I have five more short stories than I did at the beginning of the year!
My Goal is to complete 12 short stories by the end of the year. I'll edit and polish them up in January/February, then see where I want to go from there.
Website & Blog Revamp
I'm in the process of going through my website (this one) and changing things up a bit. Giving it more visuals, updating the content, etc. etc. I hope to do a complete overhaul of the design from the ground up, but that is still in the idea stage. This time next year things will look a bit different… at least, that's the plan.
My Goal (for now) is to blog weekly at the very least, so that I can keep my focus on my projects and maybe get you guys to keep me on track!
Day Planner
I'm designing a day planner. Yes, you read that right! I have no design experience whatsoever but I have been Bullet Journaling for a couple of years now. The first day planner I make will be based on what I use in my Bullet Journal (aka, what works for me) and the next two or three will be variations on that layout. I am currently finalizing the first design and next steps are to figure out how to hand-make the day planner. It's exciting and terrifying all at once, but I think it'll work out in the end!
My Goal is to launch the first day planner by the end of December (sooner would be better of course), so check back for updates, photos and details.
If this sounds like a lot to you, well… you're right. It is a lot. I've been working on a few of these goals throughout the year with varying levels of success. In the end, I have to remind myself (as we all should) that if I hadn't set myself these goals at first, I wouldn't have anything more now than I did last year.
For example, I now have five short stories I can polish and publish, even if I don't write the full 12 I had anticipated. I also have a Creative Writing Bullet Journal I can reference when I need, even if it isn't finished yet. AND, I have a workable day planner design that, even if I don't create a sellable product, I can use for my 2020 Bullet Journal.
All of these are positive things. All of these are great. I can do more but I don't have to.
I will though. Because I promised myself I'd achieve specific goals and by golly, I'm going to do it…….
Probably in the last two weeks of December.