Weekly Update – Happy New Year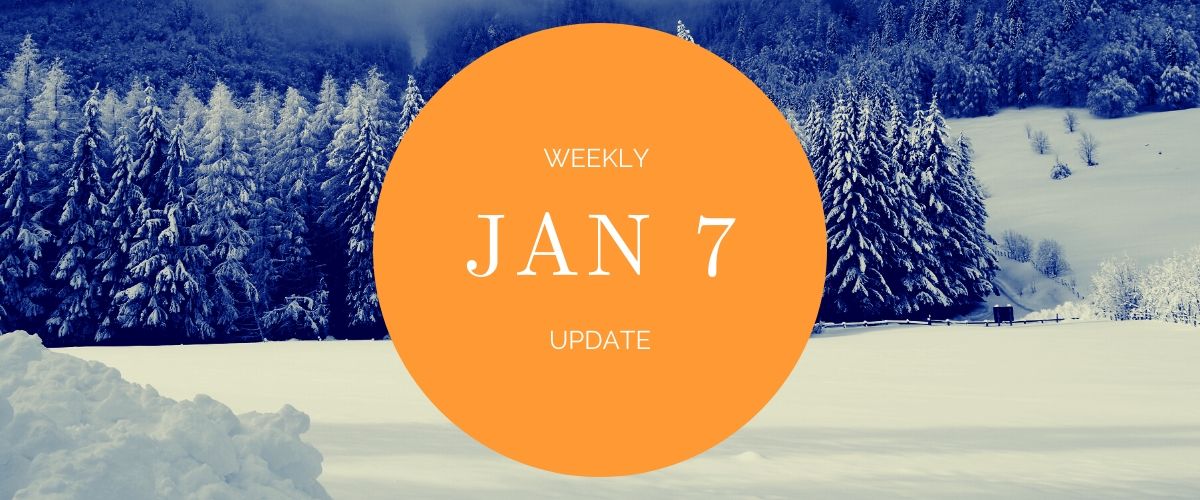 Happy New Year, everyone! Welcome to the new decade. I hope you've all had a marvellous holiday season and that the first day/week back to work hasn't been too terrible. I know my first day is always packed with email answering, and the usual Monday work.
2019 was such a productive year for me. And a challenge. I feel like I started the year off confused and discombobulated, a bit adrift in the sea we call life and not quite sure why my rudder was broken… since it'd been working so well these past few years.
When I think back about everything that's happened, it makes my head spin a little. From a loved one of mine getting a clean bill of health, to celebrating my first wedding anniversary, to my eldest niece and nephew each turning 13 (soon all five of my adorable niblings will be in the tween/teens and I'm just so proud of the people they've become).
There have been less-than-positive things too, but I'm choosing not to write about them. Every "bad" thing had its place in 2019 and its purpose in my life. And the good outweighs the bad, tenfold.
The point is, in 2019, I managed to fix my rudder and now I'm hoping to gain some momentum in 2020, so I can sail towards my goals.
I realized the other day that I have been remiss in updating my blog with all the fun things that happened at the end of November and into December. Since this is an "update" style blog, I shall update you on all those wonderful things!
First
I finished – and "won" – NaNoWriMo. Hit the 50K mark well within the deadline, which is rare for me (usually I'm typing furiously right until the last minute). The story I started (it's not finished yet) is a good one (I think) and I plan on finishing it in 2020.
And then…
At the very beginning of December, I published my very first guest blog on a reputable site. "How I Use MeisterTask to Increase My Productivity as a Freelance Writer" is a blog post for MeisterTask that, you guessed it, covers how I use their project management app to stay organized. This is pretty big for me, as it's the first time I've been asked to guest blog outside of my Quench articles. So, yay! (Also, if you're looking for a good project management app…. MeisterTask.)
Best of all!
Right before the holidays, I finished my day planner prototype. It turned out really well. I've had a lot of great feedback from friends and family. A lot of support as well, when I told them a bit about what I hope to do with the day planner!
I made five prototypes in total – mostly to experiment with sizing, printing methods and all that jazz. Now that I've figured out how to make the physical day planner, I can start working on the selling part.
In fact, this week I'm putting my first prototype into action. In the front of the book is a "Goals" section, where I can outline three goals for the year. I, being the type of person who never makes things easy for herself, will probably have more than three. I'll know for sure soon – and I'll share them with you in my next "Weekly Update"!
---
We're about a week into 2020, and I'm already fairly giddy about what the coming year may hold for me. So Happy New Year again, dear friends. May 2020 bring you every joy and fulfill every dream.
Ps. If you're interested in a "Lisa Original" day planner of your very own, email me at info (at) lisahoekstra (dot) com with the subject line "I would like a day planner". I'm writing up an "official" launch blog post for later this week, so keep your eyes peeled.