Monthly Update – What happened out there?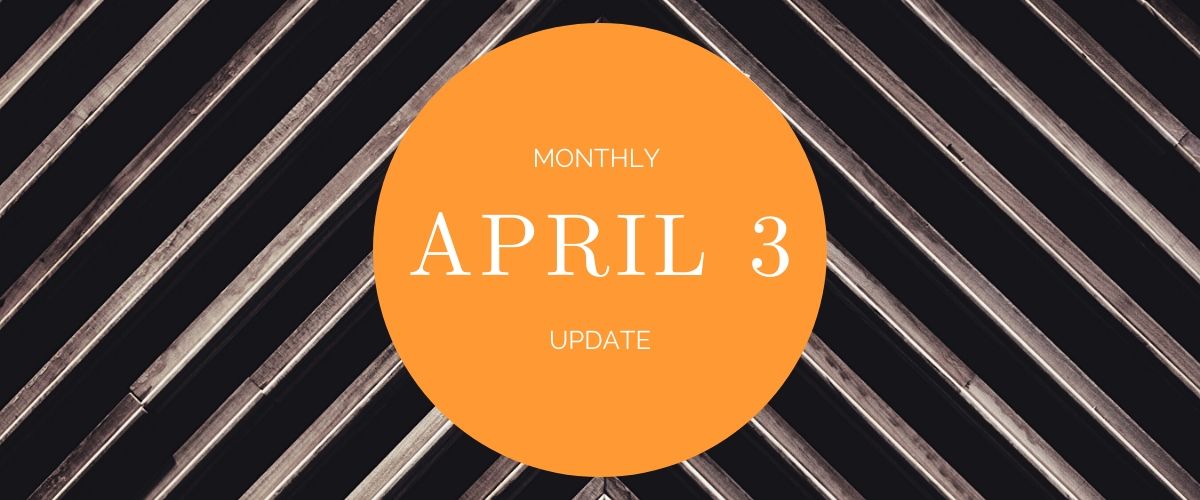 Whoa. The world is a very different place since I last posted a blog.
I wished you all a Happy New Year back in January and then promptly went into a three-month hibernation (yes… I am a bear disguised as a human). When I emerged half-way through March to celebrate my husband's 40th birthday, I was told to stay home. Now, 18 days later (wow, only 18 days?!), I'm checking in on everyone… and letting you all know that I am ok.
I don't know about you, but this pandemic has made me feel many things. As you may have figured out, I have a lot of hermit tendencies. So staying at home is pretty easy for me. It's made slightly more difficult by my husband being home. He's far less of a hermit than I… and I wish I could figure out a way to help him embrace hermit life. Unfortunately, he's not a big reader. That's key if you're going to be a hermit. Reading. That and jigsaw puzzles.
*I've shared my (current) two app suggestions for reading and jigsaw puzzles after this post.
A predominant feeling I've had ever since the lockdown (not a real lockdown… yet) started is this sense of "why bother?". Why bother continuing with my day planner development? I can't get them printed as printing presses are all non-essential and shut down… Plus, will anyone really want a day planner in two months time, when we're all still stuck inside? (Current projections in my area say this could last until July, if not longer.)
I've been trying to work through that feeling. To get over it, if you will. While understanding that it is a perfectly valid feeling. (Pro tip: all feelings are valid. Never let anyone tell you otherwise. Feel your feelings, my friend. It's how you act on your feelings that truly matters.) It helps that I still have contract work – I'm lucky, as many in my field have lost work and projects due to shut downs. It also helps that I still have my 2020 Goals.
I set my 2020 Goals way back in January, pretty much the day after I'd posted my last blog, as I had planned… and have worked towards them bit by bit. I'm admittedly not as far as I'd like to be in my annual plan, but it's only the start of the fourth month and the world HAS gone a little bonkers, so I think I'll give myself a little leeway. I'm now going to share these goals with you… because I can.
Note:
I started the year with nine goals – three business goals, three creative writing goals and three personal goals. All three of my personal goals involved things that we can no longer do – socializing / getting out with my friends more often (because I'm too much of a hermit); planning and then taking a trip overseas somewhere; joining a gym / getting more exercise out of the house. I reviewed my 2020 goals last week and decided to streamline them down to only two.. If I accomplish just one of them, I will consider 2020 to be a success!
#1 Day Planner Project
I've consulted a business coach and an expert to work out the kinks in my design. Now I'm ready to start developing the business! *exciting* I was originally hoping to launch the first day planner in May/June – a "soft launch" if you will. The first product is a "fill in the month/date" style day planner that can be purchased at any time throughout the year and used for a 12-month period. This soft launch will probably have to be pushed back… or modified slightly to take into account the closure of all printing options. But that's ok. In the next few weeks, I'm going to figure this out and move forward with a new schedule.
The "official" launch will hopefully happen in August or September. This will feature my 2021 day planner, an improved version of the 2020 prototype. Anyway, that's what I'm working towards and I'm hoping it'll come true!
#2 A Story of Some Sort
I'm determined to finish and publish a story of some sort. I *was* working on my 2019 NaNo story, to finish the actual first draft and then get that into the world by December 2020. However, the premise of the story is that my MC's hometown and family are killed by a pneumonic plague of some sort… and honestly, that's just hitting a bit too close to home right now.
This week I revised all my schedules, projections and plans. Now I'm working on book one of a fantasy series I've been planning for … years now. Years. YEARS. So perhaps this change in direction is a good thing.
I've also got some short stories on the go. If I finish 12 short stories, then I'll publish a little anthology instead of a novel. We'll see what happens!
Alright! So that's my update for this month. Oh, I've decided to do "Update" posts once a month now, instead of weekly, since I obviously haven't really done weekly updates. Instead, I'll try to post interesting content on a weekly basis and give updates at the beginning of every month! Fingers crossed that this plan works. 😉
Stay safe out there everyone. And remember: stay home, wash your hands and, if you must go out, do NOT touch your face.
---
Apps I've used (that you may like, too)
Reading & Puzzles
If you have Amazon Prime, you have access to Prime Reading (and Prime Music.. And Prime Video) as part of your membership. You sign in with your Prime account on your Kindle / through your Kindle App and look for the books that have the Prime logo. These are free with your membership. It may take a while to find an interesting book… I find the navigation and search aren't the best… but hey. It's free… or rather, you're already paying for the service so you should take advantage of it!
What I've read (so far)
Every Single Secret by Emily Carpenter is a psychological thriller / mystery book that I thoroughly enjoyed
The Last Woman by Jacqeline Druga is a post-plague survival story that may not have the best writing but has a great story (I read this before COVID-19 was a thing… I probably wouldn't read it now…)
A Spell of Trouble by Leighann Dobbs is a mystery novel about witches… it reads a lot like the Year-Round Christmas Mystery series I thoroughly enjoyed by Canadian author Vicki Delaney
I downloaded this app ages ago. As an apartment dweller, I have limited space. I also own no actual physical puzzles of my own. So this app has let me puzzle to my heart's content without needing to clear off the kitchen table…
It is a great jigsaw puzzle app – easy to use with lots of puzzle options. I've purchased a few puzzle packs over the year(s), because… why not? Though you don't have to – every time you complete a puzzle, you receive coins, which you can then redeem for new puzzle packs.
Also, you can set the pieces to rotate or not, snap together or not, sort edge pieces out automatically and more. Essentially, I love this app and think anyone who likes puzzles and has run out of them at home should download it. It's available for Apple, Google and Amazon devices.
Learning & Education
I took a free SEO course on this platform a few years ago. It was easy to follow and kind of fun to do. Haven't used it since though, so I'm not sure what's available. But if you like learning, it's worth checking out. The prices aren't too bad and there are free courses available.
I went through a phase last year where I suddenly wanted to brush up on my Math skills. I studied Pure and Applied Mathematics in my first year of University before I realized becoming a mathematician wasn't what I wanted to do with my life. But I still love playing with numbers. Anyway, I downloaded the Khan Academy app and have been working my way through all of their Math courses. It's easy to use, has great tutorials and is almost set up like a game. If you have kiddos at home or just like challenging yourself, I highly suggest this app.