Monthly Update – Summertime in the City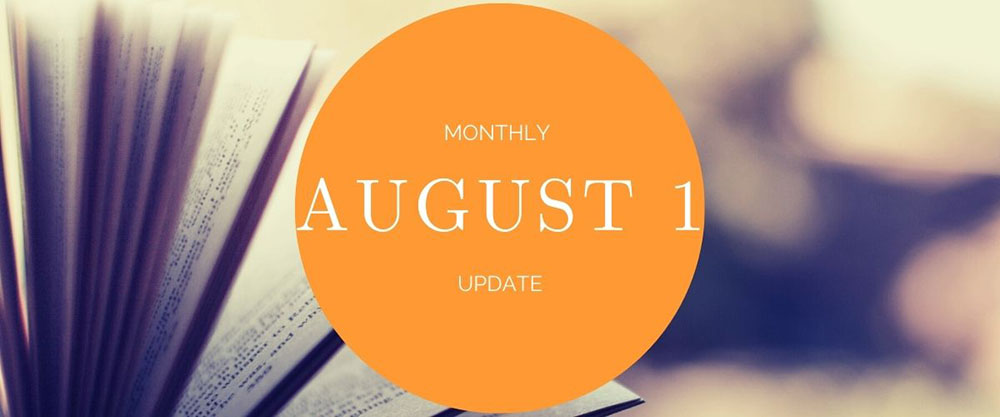 Where has the time gone? Seems like just yesterday, I was enjoying the late-spring weather and looking forward to getting out of the house again. Then suddenly, it's all mid-summer storms and one-more-month-of-summer panic!
And yet, I still haven't managed to get out of the house (at least, not any more often than I did when the snow was knee deep).
I think we can all agree that these are strange times. 2020 is just bonkers.
I admit to drifting through these last few months in a sort of overwhelmed haze. I've tried to focus on my pet projects, and that helps keep the crazy at bay. If you remember, way back in April, I streamlined my 2020 goals to just two things: Day Planner Project and A Story of Some Sort.
#1 Day Planner Project
I came close to having everything together to launch my day planner at the end of this month! Very, very close. Unfortunately, my plans fell through and now the hard-copy, professionally printed, yay-I-did-it! day planner will have to wait.
On the plus side, this does mean that my first fully designed day planner is ready for print. (Ok, almost. It's about 95% ready.)
Flexibility and innovation is the key to any good business, and fortunately, I'm pretty good at those things (when I want to be). SO, I'm developing some alternative plans for the full September launch. I mean, I don't NEED the printed hard copy to launch the business. Not really. 😉
I've also started developing my digital marketing strategy and website content – I will post links to the socials and website once they're up and running!
Which brings me to my most exciting news – I've picked a business name. Or rather, I have two options for a business name: Clever Cactus Books or Clever Cactus Planners. I've spent the week flip-flopping between the two.
I'm also working on my logo. Anyone who follows my Instagram account got a sneak peek at my sketches (aka, the cacti cartoons). Now I just need to pick one, polish it up and add some text. It won't be a professional, smooth, crisp logo, but it'll do what I need it to do until I can afford a professional, smooth, crisp logo!
Soon, my friends. Soon!
#2 A Story of Some Sort
I admit, I've made less progress here than I'd hoped. I HAVE drawn up all the character outlines and general plot points for Book One: The Fantasy Series (not the actual title… it doesn't have an actual title). I've also written a few words of the actual story. Nothing major. Just an intro and a less than awesome climatic scene. Now I just need to connect the dots. Easy peasy!
Short story wise, I've drafted a new one and reread the old ones a few dozen times. If I can find my muse again, I think I'll be able to put together a collection of at least 10 short stories to self-publish next year, and that'd be exciting.
Anyway! That's all for my personal goals updates… Other than working hard on hardly working, I've also had the chance to read a few books.
Lisa's Summer Reading List (So Far)
Here is the full list of everything I've read since my last blog post (aka, May). There is one book that I'm not putting on this list because it was terrible. I read it all, but I didn't enjoy it. It will not have the honour of being named here.
His Dark Materials trilogy: The Golden Compass, The Subtle Knife, The Amber Spyglass
Written by Philip Pullman
Great series with really strong characters. It is classified as Young Adult, but I find it covers a lot of deep topics that resonate with fully grown people, too. If you're not a big reader, the TV show on Crave (first season anyway), is very true to the books. The movie, not so much.
The Black Swan
Written by Mercedes Lackey
Lackey is hands-down one of my favourite authors. She always has really well developed characters, easy-to-read narratives and interesting worlds. This is a stand-alone book (a lot of her other books are written as trilogies or series). It's a re-telling of the Swan Princess story, only from the perspective of Odile… and with a more fantasy-type setting.
The Sevenwaters Trilogy: Daughter of the Forest, Son of Shadows, Child of Prophecy
Written by Juliet Marillier
Another great fantasy writer with strong characters. This series follows the Severnwaters family as they try to win back some mystical islands from invading forces. There are curses (the first book also has a swan-princess like curse), faeries, sorceresses, warriors.. So much to love here.
Death of Mrs. Westaway
Written by Ruth Mare
I took a break from fantasy to read this mystery novel… in a single night. I really enjoyed Ruth Mare's In a Dark, Dark Wood, which I read … last year? And I enjoyed this one just as much. It follows a young lady as she tries to con her way into an inheritance… and discovers the secrets in her mother's past quite by accident. Murder, mystery, magpies.