Monthly Update – It's finally 2021!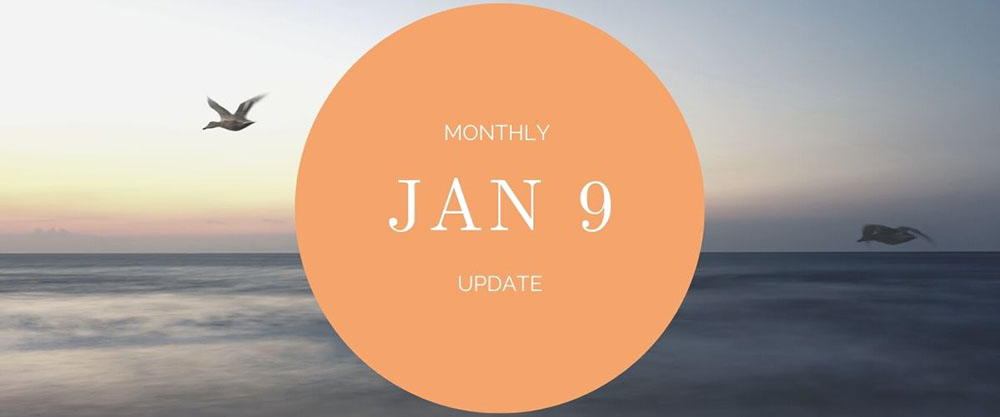 Happy New Year! Is anyone else extremely happy that 2020 is over? I know I am. It was a rough year, to put it mildly. Even with the turmoil that hit the world in the form of the virus-that-will-not-quit, there was still some good to come out of it (for me at least).
First and foremost, I launched Clever Cactus. It was a close one – it almost didn't happen. But in the final month of 2020, I pulled it off. I only have two copies left to sell from my original print run!! (If you haven't grabbed yours yet and you want one, you should order asap). I'm ordering more next week to sell throughout the year. In fact, I've already set my 2021 goals for Clever Cactus and I'm very excited to continue moving forward and growing that business! It'll take a lot of work, and it'll all be worth it!
Another good thing that 2020 brought was the chance to slow down a little. It was scary, for sure. There were moments during the year when everything was so uncertain, finances were tight, life was chaos. But that fast-paced, must-rush-to-do-all-the-things feeling that permeates our society seemed to soften. It felt like we were allowed to take time for ourselves. Develop a new skill. Watch those TV shows we've not had time for. Spend time with our loved ones (if we lived with them, anyway). I think it's important that we hold onto that time even after the chaos is sorted out and keep using it for ourselves to grow, and be happy.
Third (and final for today), I was able to catch up with my friends and family a lot more in 2020 than in previous years. Granted, it was via text or virtual video chats. As we all know, it's just not the same as seeing them in person. Yet, so many of my friends and family are far enough away that I don't get to see them in person all that often anyway. At least this way, we were able to connect.
I'm happy 2020 is over. It was only a year – 365 days – yet so much happened in the world that it felt like a decade all on its own. I'm hopeful that 2021 will be better, much better. I look forward to seeing what the world becomes, after all this is said and done.