Bullet Journal Introduction: Get Organized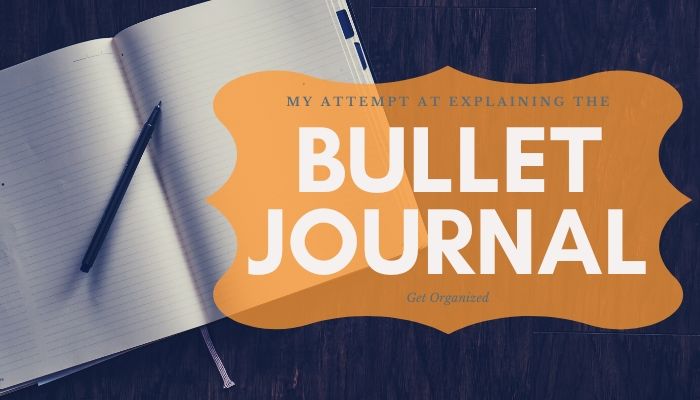 About a month ago, I wrote down a few thoughts about being organized – and how it's helped me live a less stressful existence. My bullet journal is a key organizing tool. If you haven't heard about bullet journalling yet, well, buckle up because you're about to be enlightened.
Bullet Journal Background
Ryder Carroll, a digital product designer and author from Brooklyn, developed the Bullet Journal® (or BuJo® for short) system as a way to stay focused and productive. Carroll was diagnosed with Attention Deficit Disorder early in life. This challenged him to develop a system that worked for him – one he shared with the world in 2014/2015 (or thereabouts). According to the official website: "he developed a methodology that went far beyond simple organization. Now he focuses on helping others learn what the Bullet Journal method is truly about: the art of intentional living."
There's a TedTalk on the BuJo website that's worth a watch, especially if you want the full details straight from the creator's mouth.
Bullet Journal Defined
Here is my attempt at defining the BuJo…. It is a customizable journaling system with suggested symbols, spreads, layouts, contents and more. You pick and choose the contents that work for you and set them up in the systematic way outlined by the tutorials. It is a day planner, diary, meditation tracker and more, all combined in one.
Basically, it is whatever you need it to be to keep yourself organized.
Unlike day planners you get at the store, BuJos gives you more space to include those important things not considered by standard day planners. Traditional day planners have space for individual days, weeks and months. I often found it hard to include other goals – where do I track my finances and bills? Where do I put all those tasks I have to do, but don't have a specific due date?
Don't get me wrong. There are ways to get around these limitations with standard day planners. I found and used them before I discovered Bullet Journaling. However, I made the switch to a BuJo because, well, it's just easier to keep everything together and in order.
Bullet Journal Components
The only physical components to a BuJo is a notebook and a pen. Yup, that's it. It doesn't even have to be a blank notebook! If you have a partially used book, you can convert the remaining blank pages into your first BuJo. That's actually what I did, way back when I first started. (I've also converted a few half-used notebooks into topic/category specific BuJos… but let's not get ahead of ourselves here).
There are "official" BuJo books you can buy; these have dots instead of lines and probably numbered pages. There are also "official" BuJo pens you can get. Buy them. Don't buy them. It's up to you. I didn't… but mostly because of the aforementioned half-filled notebooks I already had.
"BuJo is a modular framework," the official Bullet Journal website explains. "Each module, or Collection, serves to organize related information. You can mix and match, customize, or even create Collections to best suit your needs."
Tip: Use Washi Tape to separate collections and sections… or in the case of starting a BuJo in a half-used book, to denote the start of your BuJo.
Every BuJo has key "Collections" or, as I like to call them, spreads:
Index
Future Log
Monthly Log
Daily Log
Index
Pretty self explanatory. This is where you track your BuJos content. This spread appears first in your notebook. (Or, if you're starting in a half-used book, on the first official BuJo page.) Ideally, you'll have a notebook with page numbers. If you don't, add them.
(It takes a while to write out the numbers 1 through 250, but I find it's worth doing right away.)
Future Log
Consider this a "year at a glance" spread. The way you design it will depend on your personal preferences. I like to create a calendar-like spread with each month labelled and a line for each of the days.
At the beginning of the year, I add in all the important dates: birthdays, anniversaries, planned vacations, holidays, due dates, etc. This helps me prepare for the year ahead, and also gives me a quick reference tool to review at the beginning of each month.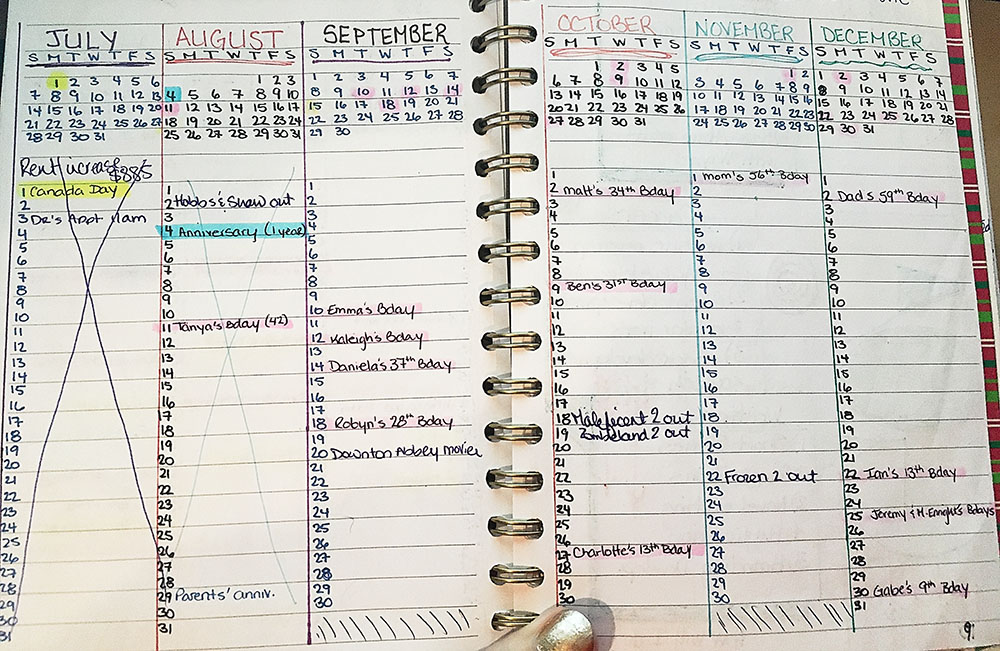 Monthly Log
The official Monthly Log concept has a calendar and a task page. I don't follow this, as I… just don't. I use my Future Log page for my calendar (as well as my iCal). This just means that my Monthly spreads have evolved past the suggested content to suit my needs. And that's exactly the point – customizing the content to fit your brain.
Right, anyway. Officially, the monthly log has a calendar page. This is minimalistic – just the dates with the days of the week beside them, plus whatever important tasks, appointments and events will occur. The facing page is your Task Page. This is a monthly inventory of everything you need to do, with notations indicating priority, carryover and more.
MY monthly log is four pages:
Page 1 – that month's goals in point form, plus major events & their dates
Page 2 – Money – I list out all my bills, due dates, amounts, etc.
Page 3 – Daily habit and sleep tracking
Page 4 – Weekly/Monthly habit tracking (aka, those habits that take place once a week or a few times a month).
Sometimes I add a fifth and sixth page at the end of the month. (I call it my Monthly Review.) Sometimes I don't. It really depends on how interesting my month was.
Daily Log
This is where the BuJo method really shines. Carroll designed something called "Rapid Logging".
"Rapid Logging is… a way of capturing information as bulleted lists."
You use a quick, short-hand system to log tasks, appointments, events, whatever during the day and keep track of things without having to spend a bunch of time worry about where it goes on the page, or designing something pretty.
Task to-do: • task name
Task complete: X task name
Migrated task: > task name
Task irrelevant: • task name
Event: º Event Name
Note: – Note description
There are several other short-hand symbols to use – it helps to make yourself a legend or key when you first start out.
Really, you should just read the Bullet Journal website's how-to section for the official guide.
Bullet Journal Collections
There is no limit to the collections (or "spreads) you can create in your Bullet Journal. Want to track your finances? Do it. What to make a list of songs you like? DO IT. Want to keep track of ideas you have in the middle of the night? Guess what… you can! Make yourself a gratitude log; take notes as you read a book; create a log book for your daily runs. There is literally no limit on what you can include as a collection in your BuJo (and that's what makes it so great, in my opinion).
If you need inspiration on what to include, Google "Bullet Journal Ideas" or check Pinterest.
Here's a pretty Buzzfeed article to get you started.
My Bullet Journal Creation
When I started Bullet Journalling, I followed the rules. I also took to Pinterest to get inspired for my spreads. Let me tell you, there are a lot of creative people out there. I like the IDEA of a beautiful bullet journal, but I lack the patience for it. This means my journal falls somewhere in between the fancy, schmancy journals online and the quasi-messy, as-it-was-intended BuJos of rapid logging fame.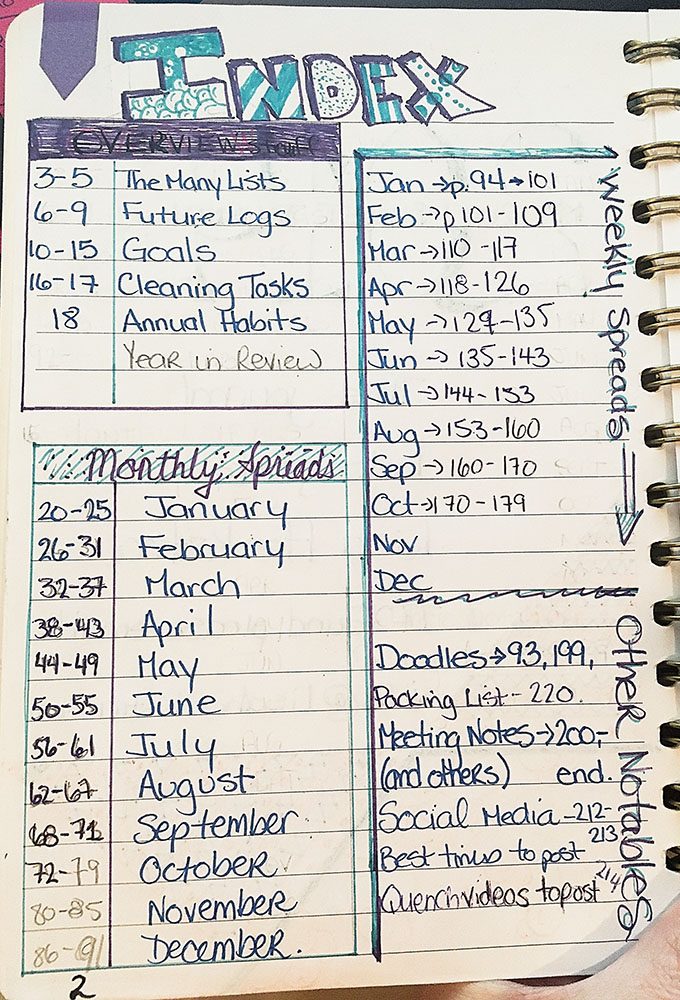 After a couple years learning the skills, I got a sense of what works for me. And that's what I use. Here's an outline of what that looks like:
Index
Lists: Shopping, Reading, Watching, Trying… those types of lists.
Future Log
Goals spreads – I set myself goals, include my plan for achieving said goals, and work towards them throughout the year. (Topics include: creative writing, freelancing, money, etc)
Cleaning & Organizing schedule
Annual Habits tracker (where I keep track of those once-a-month tasks)
Monthly Spreads
Weekly Spreads (I don't do daily pages anymore… ran out of pages too quickly that way)
Notes section
Fun fact: I've based my day planner design on my 2019 BuJo. (The day planner won't be a "BuJo", of course… because a BuJo is customizable, and my day planner is not.)
Now, the true spirit of the BuJo has the Monthly, Weekly and Notes pages all jumbled up inside. The idea is that you track the pages in the index as you create them. I journaled this all the way up until my 2019 BuJo. For 2019, I counted out all the pages and created sections. I won't know for sure if this worked until the end of December… though I can say, I'm already out of "Notes" pages, which is less than ideal.
There you have it, friends. My attempt at introducing you to Bullet Journal. I hope this inspires you to think outside the box when it comes to your day planner – and maybe try your hand at a BuJo.